Because of the corona crisis, chess clubs are closed almost everywhere and hardly any tournaments have been taking place on boards for months, the worldwide action on the 64 squares has shifted almost completely to digital platforms on the Internet. It takes courage to launch a printed chess magazine in the middle of the pandemic. This courage was found by Fabrice Hodecent, who recently published the first issue of "Route 64" in France – a perfect-bound and elegant magazine, which the editor-in-chief calls "Mook" because of its mixture of magazine and book.
Fabrice Hodecent is convinced that a magazine published on paper has its place in today's media landscape despite the digital competition associated with the shift of chess to the World Wide Web: "Digital can't compete with a product of this quality."
Bound on Muller Martini perfect binder
The "Route 64" project began 18 months ago on the initiative of three partners. Jérôme Houdin is the most active chess player of the trio. He is described by Fabrice Hodecent as a "walking chess encyclopedia". The other two, Gérald Gontier and Fabrice Hodecent, also play chess regularly, but do not belong to any club.
In addition to the three partners "Route 64" has two other employees: a graphic designer (Emilie Sicot) and a webmaster (Guillaume Néel). The magazine is printed at Imprimerie Offset 5 Édition in Les Achards in the Vendée, where two perfect binders from Muller Martini, an Acoro and a Monostar, are in use.
"We have to offer something that stands out"
​Does paper still have a place at all in today's situation – that is, with the development of digital technologies, which has gained additional momentum with the corona pandemic? "Yes," says Fabrice Hodecent, "new magazines are published every year in France. But we have to offer something that stands out."
With its 128 pages, "Route 64" defines itself as a "mook" – a pun on magazine and book. "It is more than a magazine, and a digital medium cannot compete with a product of this quality," Fabrice Hodecent is convinced.
Seven different concepts were developed before the launch. The first issue came out last January. In the current year, the magazine will be published three times, and in 2022 there will be four issues.
A chess travel guide
The only other chess magazine in France is "Europe Échecs", which has been around for more than 60 years and whose content, according to Fabrice Hodecent, is very technical, as it is part-heavy. "So the French chess publication landscape is rather poor. That's why we had the idea to develop a periodical that addresses a broad audience and looks behind the stage of the chess world with portraits, reports, chronicles and beautiful photos."
With "Route 64" – the allusion to the famous Route 66 in the USA is obvious – the readers travel through a chess country. "Our journey goes there," Fabrice Hodecent underlines, "where other publications do not go or no longer go. We travel the chess planet diagonally, mostly taking back roads."
This interest in the world of chess in the broadest sense is expressed in the magazine's subtitle: "Chess Outside the Box." Fabrice Hodecent: "We focus on the life of chess – including artistic, philosophical and psychological aspects."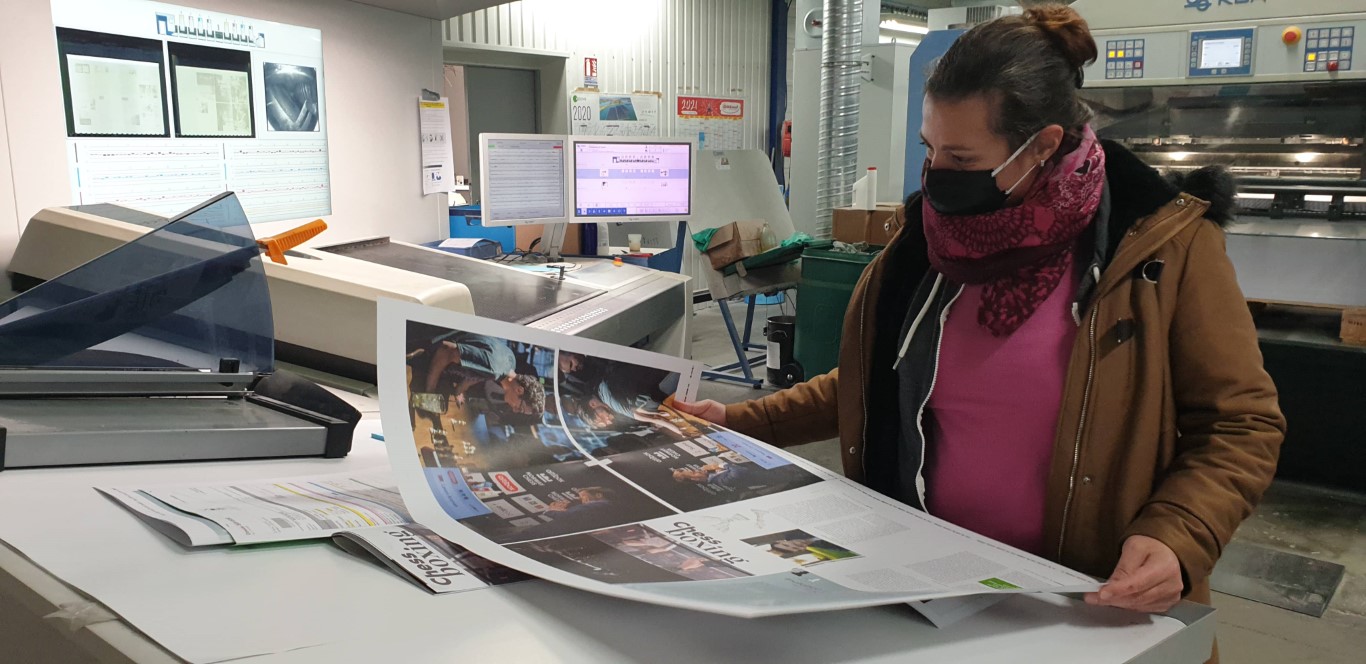 "Route 64" is produced at Muller Martini's French customer Imprimerie Offset 5 Édition.
For enthusiasts and amateurs
The magazine is aimed at two target groups: chess enthusiasts who want to discover something other than games, and amateurs who are interested in the world of the royal game.
Does "Route 64" get support from the chess world? "Yes", says Fabrice Hodecent, "Jérôme Houdin knows many people. So we have a lot of contacts and benefit from the support of many players – including most of the French cracks. They are happy that we are interested in what they are experiencing."
And how do interested parties get to "Route 64"? The initiators use a digital channel for their advertising, since orders are primarily placed via the website. "Our magazine is a niche product," says Fabrice Hodecent. "That's why it's impossible for us to be present at points of sale like something like newsstands. But we can also be found in some bookstores."
Detours abroad
The goal of "Route 64" is to establish itself throughout the French-speaking (chess) world. That's why the magazine sometimes takes a look beyond France's national borders into neighboring countries. Thus, the second issue of this year will be largely dedicated to Switzerland! "I discovered a few things there that we don't know in France – like a seniors' association for over-60s and private chess schools," says Fabrice Hodecent. Issue 3/2021 will then feature a tour of Belgium.
Goal: 3000 subscribers after three years
So far, 400 copies of the first "Route 64" issue have been sold. "The number of subscribers is increasing every day," says Fabrice Hodecent. "The goal is to reach 700 subscribers by the end of 2021 and 3000 after three years. This would allow our company to live and for us to earn a living. Currently, the three partners do not receive a salary. That's because the revenue goes entirely to production, which costs around 12,000 euros per issue."
At the beginning of the project, a business plan was drawn up, but it had to be completely changed because of the pandemic. "Route 64" has 16 shareholders who have invested in 20 percent of the company's capital. In addition, about 200 donors were found.
In the course of "The Queen's Gambit"
For Fabrice Hodecent – a prime example of how digital print can give wings (see also our top story on "Streaming") – the great success of the Netflix series "The Queen's Gambit" came at just the right time, for it allowed a large audience of the uninitiated to discover the chess scene. "'The Queen's Gambit' was a blessing for us from a promotional point of view – even if it's hard to say to what extent we benefited from it," rejoices Fabrice Hodecent. "In the specialty stores, the shelves were literally emptied of chess books and chess sets."
The airing of the Netflix series about a girl who became a chess champion partially compensated for the fact that the three partners were unable to travel to tournaments due to the cancellation of competitions as a result of the corona pandemic.
Even though the printed magazine is the central project of Route 64, it is still not the company's only product. The three partners also focus on two other business areas: The organization of events (simultaneous events and parties) and activities based on chess to develop business strategies.